What if we told you that the secret to clear skin is actually, cleansing? Banishing blemishes is easier than you think and it all starts with proper cleansing – the key to preventing and reducing acne. Did you know that acne affects 80% of teenagers and 40% of adults? Acne can come in various shapes and forms such as pimples, inflammation, clogged pores and blackheads. But fear not, with the correct skincare routine –starting with cleansing – acne can be defeated for good!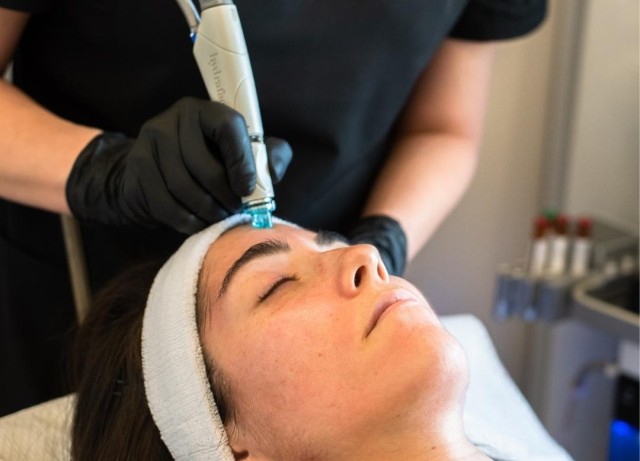 Acne: Leaving a mark
A common skin condition, acne (acne vulgaris) is the result of the overproduction of sebum from sebaceous glands. It occurs when the hair follicles get clogged with oil, dead skin cells and accumulated bacteria causing the pores to become blocked. Mild acne (common acne) symptoms include blackheads, whiteheads and pimples, whereas severe cases of acne (inflammatory acne) can cause painful cysts and nodules to form under the skin and can result in scarring, which can be permanent.
Too often people make the mistake of relying on cosmetics and treatments as a "quick fix" to cover up acne marks. It's important to remember that the first and most crucial step in a skincare routine is cleansing. This is because, in acne-prone skin, even when there are no visible pimples, blackheads and enlarged pores can still form under the skin. Investing in a good, purifying cleanser will make all the difference to your skin! Make it a daily habit to cleanse, gently removing dirt, oil and make-up, allowing your skin to breathe and heal.
Clean solutions... 
...at home. Keeping your skin clean is an essential part of your daily routine, especially if you have oily or acne-prone skin. Daily cleansing should aim to purify the skin and not only remove dirt, make-up residue and excess sebum. For acne-prone skin, we recommend choosing a cleanser that has gentle keratolytic ingredients that will lightly exfoliate the surface of the skin.
However, you need to be cautious when choosing the right cleansers because some formulas may have hidden pitfalls. Harsh cleansing agents can strip your skin of its
natural oils, which triggers sebaceous glands to produce even more sebum to compensate for the loss. Also, the addition of using a scrub to get rid of clogged pores
can seriously damage your skin's protective barrier, making it easier for dirt, dust, and pollution to penetrate your skin and cause irritation, inflammation, and more breakouts.
Tip: If you have active, inflamed acne, i's best to avoid experimenting with new products and seek advice from a dermatologist or skincare expert. In general, the best approach to daily cleansing for oily, acne-prone skin is to find a gentle, purifying product that contains mild exfoliating agents to help unclog pores and promote healthy skin renewal.
...at a dermatologist. If you suffer from acne-prone skin, regular visits to your dermatologist for deep cleansing is one of the most effective ways to maximize the results of your daily skincare routine. After evaluating the severity of your blemishes, the dermatologist can then recommend the appropriate dermo-cosmetic treatment to help keep your skin clear, using specialized equipment to exfoliate the skin deeper, opening up clogged pores, removing excess sebum and blackheads, and promoting overall skin health. Not only does deep cleansing leave your skin feeling and looking better, but it can also help prevent or delay the reappearance of acne.
Tip: Cleansing done by a non-specialist can exacerbate acne, causing infections and further scarring. For best results, trust your skin to the hands of a qualified dermatologist. They can provide safe and effective cleansing that will help keep your skin looking its best.
M.S.H Clinic recommends: A great solution for deep cleansing acne or acne-prone skin is HydraFacial, the unique dermatological treatment that uses patented Vortex-Fusion technology. This completely painless and non-invasive treatment opens pores and blackheads, deeply cleanses and releases impurities and also soothes acne scars. HydraFacial also regulates the overactivity of sebaceous glands and excess oil production, the main culprits behind acne breakouts – this means that your newly clean skin can stay clear and acne-free for longer periods of time.
At M.S.H Clinic, we customize the application technique of this treatment to meet the needs of your skin type, providing deep cleansing, exfoliation, sebum extraction, and
enhanced hydration. These essential steps prepare the skin for better penetration of nourishing antioxidants and peptides of super serums and boosters, specifically chosen
to revitalize your skin immediately, restore its brightness, and maximize the already spectacular results HydraFacial.
Personalised Solutions

.

Depending on the type and stage of acne, as well as your preferences and medical needs, M.S.H Clinic will design a tailor-made treatment plan to prevent symptoms from worsening and address existing concerns. For example, in cases of comedonal acne, we typically begin with HydraFacial followed by comedone extraction performed exclusively by Dr Margarita Vergolia using specialized medical tools (comedone extractor). For inflammatory acne, our dermatologist will perform a minor medical procedure to extract cysts with accumulatedsebum and pus. Phototherapy and specialized lasers may also be used as part of the treatment to reduce inflammation, repair damage, and gradually regenerate the skin.