No matter what skin type you have, finding the right sunscreen is crucial. Sunscreen is an essential part of everyone's daily skincare routine and the type of sunscreen you use, its properties and key ingredients play a huge role in the texture and feel of the sunscreen on your skin.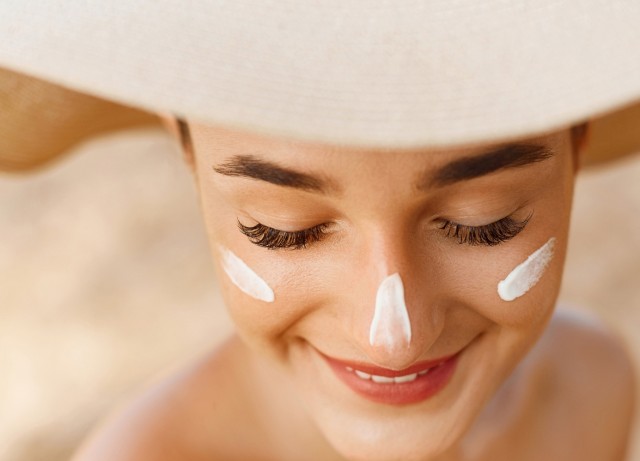 Dermatologists continually emphasize that sunscreen is the most important skin care product to maintain long-term skin health, and used regularly, sunscreen helps prevent sunburn, skin cancer and premature aging. Although many women - and men - still refuse to wear sunscreen daily. From dry to oily and acne-prone to sensitive skin, each skin type has different needs and textures which should be addressed when selecting a sunscreen. That is why choosing an appropriate sunscreen for your specific skin is imperative.
Depending on your skin type, different products and their ingredients may be more suitable for certain types of skin and specialized needs. To help make sunscreen a part of your daily routine, MSH Clinic has derived essential criteria that you should consider when choosing your ideal sunscreen. This way, you can enjoy the summer season confidently with the sunscreen of your dreams.

The basics:
When protecting your skin from ultraviolet radiation, your sunscreen should have all three of the following characteristics:
It should have photostable filters with a high protection factor - at least SPF 30.

It should be broad spectrum, meaning it provides comprehensive protection against environmental aggressors such as UVA/UVB, pollution, blue light, and infrared radiation (IR)

.

It should be water-resistant or sweat-resistant.
Remember: Keep in mind that no sunscreen can completely block 100% of UV rays, but higher SPF values offer a broader protection.
The primary function of sunscreen is to protect the skin from the sun's UV rays and prevent photoaging, but that's not all it can do. Depending on the texture and combinations of active ingredients it contains, sunscreen can cater to different skin types' specific needs.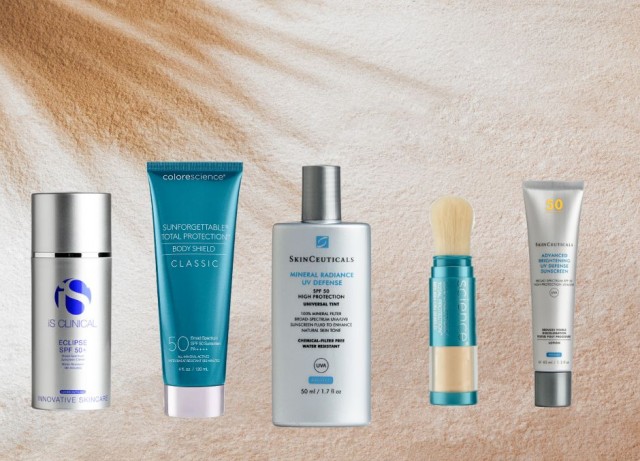 Dry skin: Choose a sunscreen in a cream form enriched with moisturizing agents and nourishing ingredients such as hyaluronic acid, ceramides, aloe vera, shea butter, glycerin, etc. Dry skin may be a sign of a damaged skin barrier which may be more-so affected by UV rays, so choosing a nourishing sunscreen allows the skin cells to retain more moisture. M.S.H Clinic recommends Advanced Brightening UV SPF 50 by Skinceuticals or Eclipse SPF50+ by isClinical (με χρώμα ή χωρίς).
Oily skin: Oily skin often comes with a shiny complexion, clogged pores and also acne. Therefore, a mattifying, oil-free sunscreen is ideal for this skin type. Sebum control sunscreen with soothing agents like niacinamide and vitamin B3 and powders and ingredients enriched with silica and clay effectively absorb excess sebum, helping to keep excess oil at bay and maintain a matte finish throughout the day. M.S.H Clinic recommends SkinCeuticals Oil Shield UV Defense SPF50  or Colorescience Sunforgettable® Total Protection™ Face Shield Matte SPF 50.
Acne-prone skin: Choose a non-comedogenic sunscreen formula that is specifically designed for acne-prone skin. Μost non-comedogenic sunscreens have a thin consistency so they won't clog pores and are enhanced with antioxidants, anti-inflammatory and soothing ingredients. M.S.H Clinic recommends Oil Shield UV Defense SPF50  or Mineral Radiance UV Defense SPF50 by Skinceuticals.
Sensitive skin: Multiple ingredients tend to be harsh on sensitive skin, so a minimal formula preferably with mineral filters (physical filters) like zinc oxide (which provides broad spectrum protection from UVA and UVB), and titanium dioxide are less likely to cause irritation. Choose a sunscreen that is free from chemicals such as octocrylene, which are known to cause photosensitivity and without added fragrance. Tip: If you're finding it hard to find a sensitive sunscreen, remember that almost all children's sunscreens have mineral filters. M.S.H Clinic recommends Skinceuticals Ultra Facial Defence SPF50 ή την Colorescience Sunforgettable® Total Protection™ Face Shield Flex SPF 50.
Sun-intolerant or sun-allergic skin: Look for specialized medical-grade products with natural filters and without fragrance, parabens, sulphates, and phthalates to minimize the risk of irritation. Tip: Before applying a new sunscreen, it's a good idea to use a patch test. Squeeze out a small amount of sunscreen into your hand and rub it onto an inconspicuous area of skin to check for any adverse reactions or allergies. M.S.H Clinic recommends Sunforgettable® Total Protection™ Face Shield Flex SPF 50 ή Total Protection No-Show Mineral Sunscreen SPF 50  by Colorescience.
Remember: Please consult your dermatologist if you have doubts about choosing a sunscreen, if you have specific concerns, if you're undergoing medical treatment, or if you have recently undergone aesthetic procedures/dermatological interventions. Only a certified dermatologist can provide personalized solutions and recommend suitable sun protection products that will improve your condition, rather than worsen it.